»Home
»Product Andalan
»GIMA
»WIRELESS PRODUCTS
» BG5 WIRELESS GLUCOSE MONITOR KIT
BG5 WIRELESS GLUCOSE MONITOR KIT
Product Code: 23510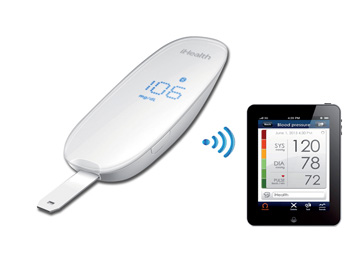 iHEALTH products to manage your personal health iHealth designs innovative, mobile personal healthcare products for everyone. iHealth wireless products with Bluetooth connectivity for iPad, iPhone, iPod and Android system, allow to easily measure and track personal data and share instantly with family or doctor. The powerful iHealth MyVitals App will also allow to manage all your health data with custom graphs, statistics, trends. This unique application tracks the relation between various parameters such as blood pressure, weight, calorie intake and activities. Compatible with all Apple and Android platforms. Includes a free iHealth Cloud service.

Package and manual in 5 languages (GB, FR, IT, ES, DE).
All products have 2 years warranty

Pocket sized, ergonomic wireless glucose monitor with advanced technology and high reliability. The Wireless Smart Gluco-Monitoring System is a convenient way to measure and record your blood glucose levels from your mobile device.

- View results instantly on the wireless meter
- Save up to 500 test results on the wireless meter
- Set up reminders and view glucose and insulin trends in multiple ways
- Track test strip quantity and expiration dates automatically, no counting or coding required
- Works on-line and off-line, with data automatically uploading at each connection.

Kit includes test strips, lancets, lancing device, control solution and travel case.

iHEALTH PROFESSIONAL APP - free
To manage wireless:
iPad application specially developped for professionals. It allows to manage in unique APP all the clinical parameters from professional i-Health devices. Free iHealth app and cloud service includes personalized health tools.
Package and manual in 5 languages (GB, FR, IT, ES, DE).
All products have 2 years warranty.
Technical Specifications
• Machine size: 9 × 34.5 × 19 mm (3.8''× 1.35''× 0.75'')
• Measuring method: Amperometric technology using glucose oxidase
• Result range: 20 mg/dL~600 mg/dL (1.1 mmol/L~33.3 mmol/L)
• Power source: DC 3.6 V
• Blood source: Fresh capillary whole blood
• Blood volume: Min. 0.7 micro liter