»Home
»Product Andalan
»GIMA
»WIRELESS PRODUCTS
» WIRELESS CARDIO LAB
WIRELESS CARDIO LAB
Product Code: 23520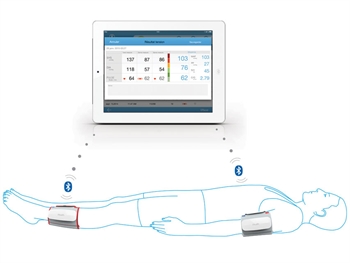 iHEALTH products to manage your personal health iHealth designs innovative, mobile personal healthcare products for everyone. iHealth wireless products with Bluetooth connectivity for iPad, iPhone, iPod and Android system, allow to easily measure and track personal data and share instantly with family or doctor. The powerful iHealth MyVitals App will also allow to manage all your health data with custom graphs, statistics, trends. This unique application tracks the relation between various parameters such as blood pressure, weight, calorie intake and activities. Compatible with all Apple and Android platforms. Includes a free iHealth Cloud service.

Package and manual in 5 languages (GB, FR, IT, ES, DE).
All products have 2 years warranty

iHEALTH CardioLab is a wireless cardiovascular monitoring system that measures or calculates blood pressure and several cardiovascular vectors such as Ankle Brachial Index (ABI), Pulse Pressure (PP), Mean Arterial Pressure (MAP), Cardiac Output (CO) and Stroke Volume (SV). It gives a clear and comprehensive picture of a patient's cardiovascular health. iHealth CardioLab technology makes it possible to take a clinically accurate and reliable measurement of all these parameters in less than 3 minutes. The monitoring system includes wireless sensing devices that can be used in various combinations to take measurements of blood pressure or other parameters such as ABI. iHealth CardioLab is driven by an Apple iPad and calculates ABI in real time by displaying pulse waves on the iPad screen. It can also be used in monitoring mode over 24 hours for static patients. It can be programmed to take multiple measurements at chosen intervals, measurements are then averaged using an algorithm that eliminates certain irregular readings due to artefacts or to "white-coat" hypertension. Track the vital signs of your patients in less than 3 minutes:

- Blood pressure
- Pulse Pressure
- Stroke Volume
- Ankle Brachial Index
- Mean Arterial Pressure
- Cardiac Output

iHEALTH PROFESSIONAL APP - free
To manage wireless:
iPad application specially developped for professionals. It allows to manage in unique APP all the clinical parameters from professional i-Health devices. Free iHealth app and cloud service includes personalized health tools.
Package and manual in 5 languages (GB, FR, IT, ES, DE).
All products have 2 years warranty.